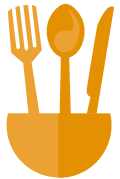 Un locale informale e semplice dove poter gustare la farinata di ceci accompagnata da ottimi vini nicesi e altri piatti tipici piemontesi.
60 coperti in inverno, da giugno a settembre 100 tra interno e dehor. Aperti 7 sere su 7 e mercoledì, sabato, domenica anche a pranzo tutto l' anno. Prezzo medio del pasto 15/20 €. E' gradita la prenotazione.
An informal and simple place where you can taste the "farinata di ceci" and fine wines of Nizza Monferrato and other typical Piedmont products.
60 people in the winter, from June to September 100 between interior and outdoor area. Open seven nights a week 7 and Wednesday, Saturday and Sunday for lunch throughout the year. Average price of the meal 15/20 €. Reservations recommended.
Contatti:
Via Pio Corsi, 18 – 14049 Nizza Monferrato (AT)
Tel. 0141.727338 – 328.2152620
info@tanti.it
www.ristorantinotanti.it