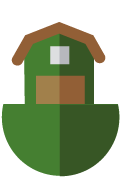 5 camere, prezzi da € 125,00 a € 180,00 a seconda della tipologia di camera.
Incastonata in un panorama di colline e vigneti che si estendono a perdita d'occhio, la raffinata Residenza San Vito offre ai suoi ospiti una calda accoglienza  dai toni familiari, in cui la tradizione, la cura dei particolari e la ricerca di una cucina basata sui sapori dell'orto si fondono con armonia, regalando momenti di puro benessere.
5 rooms, prices from € 125.00 to € 180.00 depending on your room.
Set in a landscape of hills and vineyards stretching as far as the eye, the refined Residence San Vito offers its guests a warm-toned family where tradition, attention to detail and the search for a cuisine based on flavors of the garden merge harmoniously, giving moments of pure pleasure.
Contatti:
Frazione San Vito n. 52 – 14042 Calamandrana (AT)
Cell. 348.2333172 – Fax 0141.718051
info@residenzasanvito.it
www.residenzasanvito.it