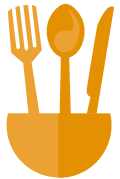 Chiuso giovedì – ferie 1-10 gennaio e 2 settimane ad agosto – 45/50 coperti
Situata sulla strada detta Sternia,pavimentata con pietre di fiume, è ubicata in una casa del seicento ristrutturata conservando inalterate alcune parti originali che rendono caratteristico e molto accogliente l'ambiente di due sale in pietra con soffitti in mattoni. Cucina tipica piemontese. Cene a lume di candela, serate a tema anche a base di pesce, pranzi di lavoro, menù dedicati, possibilità di riservare le sale per incontri privati. Dispone di un fresco dehors e di una terza sala separata adibita a pizzeria con forno a legna.
Closed Thursday – leave 1 to 10 January and 2 weeks in August – 45/50 covered
Located on the road called Sternia, paved with river stones, is located in a house of the seventeenth century restored preserving intact some original parts that make it distinctive and very warm environment of two rooms in stone with brick ceilings. Piedmontese cuisine. Candlelit dinners, themed evenings, even fish, business lunches, special menus, possibility of reserving rooms for private meetings. It has a cool outside and a third separate room used as a pizzeria with a wood oven.
Contatti:
Via Villanuova 4/6 – 14053 CANELLI (AT)
Tel. 0141.824963 – cell. 333.7546327
osteriadlasternia@alice.it