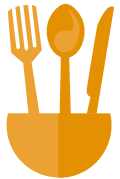 Aperto da Mercoledì sera alla Domenica (da Novembre ad Aprile solo su prenotazione).
Il vecchio asilo di Coazzolo, dopo un accurato restauro e la ristrutturazione degli spazi, è ora un'osteria. Proponiamo un menù alla carta e un menù degustazione. Le portate sono quelle della tradizione piemontese e non solo, proposte con creatività.
Open Wednesday evening to Sunday (from November to April by reservation only).
The old asylum of Coazzolo, after careful restoration and renovation of the space, is now an osteria. We offer menu and a tasting menu. Flow rates are those of the Piedmont tradition and not only with creative proposals.
Contatti:
Via Neive, 4 – 14054 COAZZOLO (AT)
Tel. 0141 870185 – Cell. 388 0485811
stella.simonluca@alice.it – osteriadellasilo@gmail.com
www.osteriadellasilo.it