LA VERA OSPITALITÀ DEL TERRITORIO 
THE TRUE HOSPITALITY OF THE TERRITORY
Percorsi panoramici
Scenic routes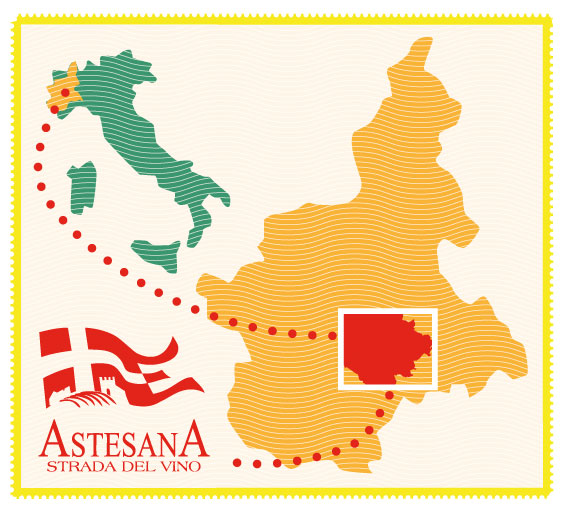 Percorsi Astesana / Astesana path

Percorsi panoramici
tra le colline /
Scenic path through
the hills
 

LUNGHEZZA / LENGHT: 53KM

       

…………………………………………………………………

LUNGHEZZA / LENGHT: 41KM

       

…………………………………………………………………

LUNGHEZZA / LENGHT: 51KM

     

…………………………………………………………………

LUNGHEZZA / LENGHT: 12KM
Noi di Astesana ci teniamo a tenerti sempre aggiornato / We from Astesana want you to stay update
TUTTE LE NOSTRE NEWS DEL MONFERRATO E DINTORNI / ALL THE LATEST NEWS OF MONFERRATO AND SURRONDINGS
Il socio del mese /members of the month
Goditi il territorio Astesana / Enjoy the Astesana territory
Astesana è un gioiello esclusivo di paesaggio collinare, a 45 minuti di autostrada da Torino, 90 da milano e 60 da Genova. E' una campagna bella e accogliente, in cui si armonizzano vigne, prati, boschetti, torrenti e borghi storici. E' il cuore viticolo del Piemonte, perchè da sola questa terra produce il 30% dei vini della regione. L'altitudine varia dai 150 metri di Asti ai 750 di Roccaverano; il clima è temperato e mitigato dalle brezze del mare di Liguria.
Astesana is an exclusive jewel of hilly landscape, 45 minutes by motorway from Turin, 90 from Milan and 60 from Genoa. It is a beautiful and friendly countryside, where vineyards, meadows, woods, streams and historic towns blend together. It is the vine-growing heart of Piedmont, for this land alone produces 30% of region's wines. The altitude varies from 150 metres of asti to the 750 metres of Roccaverano, the climate is mild and tempered by breezers from the Ligurian sea.
Dal progetto della nuova Mappa dei Percorsi Panoramici è nato anche quello del Wine Shuttle, un servizio di trasporto messo a disposizione da Astesana che darà la possibilità agli ospiti della zona di potersi spostare liberamente all'interno del territorio Sud Astigiano, visitando cantine e distillerie, raggiungendo i vari produttori ed artigiani del gusto, recandosi presso i numerosi ristoranti, osterie, hotel, agriturismi e strutture ricettive presenti in zona a tariffe prestabilite e verso le destinazioni di maggiore rilevanza, scoprendo così le bellezze, le peculiarità e i prodotti del territorio e creando congiunzioni e sinergie anche tra i vari Soci Astesana, che il Wine Shuttle saprà collegare per garantire al meglio un viaggio all'interno del Nostro territorio UNESCO.
From the design of the new map of Panoramic Routes also led to the Wine Shuttle, a transportation service provided by Astesana that will give the opportunity to the guests in the area to be able to move freely within the South Asti territory, visiting wineries and distilleries, reaching the various producers and artisans of taste, by going to the many restaurants, taverns, hotels, cottages and accommodation in the area at fixed rates and from destinations of greater importance, discovering the beauty, the peculiarities and local products and creating conjunctions and synergies between the various members Astesana, the Wine Shuttle will connect to best ensure a trip within the UNESCO Our territory.
SOCI ASTESANA 
ASTESANA MEMBERS
Ospitalità, cantine, ristoranti e artigiani del gusto.
Hospitality, wineries, restaurants, and artisans of taste.